Navy/Marine Corps Careers
U.S. Navy and Marine Officers are some of the most well-respected men and women who serve our country. Superior benefits and excellent credentials are just a few enticements for becoming an Officer. The Navy and Marine Corps offer careers that match the talents and interests of just about everyone. And as long as you're in the Navy or Marine Corps, you'll get top-notch training, exceptional benefits, and the experience of a lifetime. Click the links below to read about the many career fields available as an Officer in the Navy or Marine Corps.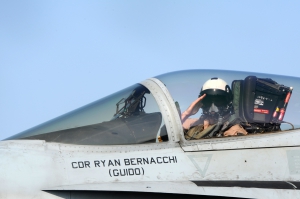 Naval Aviation is renowned for the demands it places upon its flyers. The skills and concentration required to land a high performance jet on board an aircraft carrier deck pitching in the black of night, or to track a submarine while flying at only a few feet above stormy seas, are linked to a solid academic background and top physical conditioning. There is more to it than that; it requires a combination of talents and dedication that many people possess, but few are challenged to use to full measure.
NROTC graduates are selected for flight training during their final year of school based on their grade point average, Aviation Selection Test Battery scores, and whether or not they are physically qualified. All are volunteers. Before commencing flight training, Student Naval Aviators and Student Naval Flight Officers must successfully complete the Introductory Flight Screening (IFS) program. After IFS, they arrive at Naval Air Station Pensacola to begin the Aviation Preflight Indoctrination (API) program. This course involves academic training in aerodynamics, engineering, air navigation, aviation physiology, and water survival, as well as physically challenging practical applications of physiology and water survival training.
Naval Aviator
Upon completion of API, a Student Naval Aviator (SNA) is assigned to one of five navy training squadrons for primary flight training using the T-6 Texan II Joint Primary Aircraft Training System (JPATS). Primary flight training includes the basics of visual, instrument, formation, and aerobatic flying. After successful completion of primary training, student aviators are selected for their community pipeline and move on to the intermediate phase. Selection is based on personal preference, individual flight performance, and the needs of the service. Student pilots will be selected for one of six pipelines: Strike (tactical jets), E-2/C-2, MV-22, Maritime (P-3C, EP-3E or P-8A), E-6B, or Rotary wing (helicopter). Upon completion of intermediate and advanced flight training, Aviators proceed to specific Fleet Readiness Squadrons for specialized training in their aircraft.
Tailhook Training (Strike and E-2/C-2)
Intermediate and Advanced Strike training is conducted in the T-45C Goshawk at VT-7 or VT-9 at Training Air Wing ONE, NAS Meridian, MS, or VT-21 or VT-22 at Training Air Wing TWO, Kingsville, TX. This syllabus is the foundation upon which all future tailhook aviators begin to build their experience.
The Strike pipeline fills fleet seats for the FA-18C/D Hornet and FA-18E/F Super Hornet, EA-18G Growler, AV-8B Harrier, and EA-6B Prowler in the Navy and Marine Corps. F-35B/C Lightning II pilots will also come from the Strike pipeline.
Student Naval Aviators selected for the E-2/C-2 pipeline at the completion of primary flight training report to Training Air Wing FOUR for multi-engine training in the T-44C. Upon completion, students will report to TRAWING One or TRAWING Two to complete a syllabus that will culminate in T-45C carrier qualification prior to reporting to VAW-120 in Norfolk, VA.
Advanced Multi-Engine Training
Maritime and Advanced Tilt-Rotor training is conducted in the T-44C Pegasus and TC-12B Huron at VT-31 and VT-35 in Training Air Wing FOUR. The Maritime Patrol and advance Tilt-Rotor pipelines provide foundational training for student Navy, Marine, and Coast Guard aviators selected to fill fleet seats in the P-3C Orion, P-8 Poseidon, C-130 Hercules, E-6B Mercury, HC-44 Ocean Sentry, E-2C/D Hawkeye, C-2A Greyhound, MV-22 Osprey, and C-12 Huron.
Naval Flight Officer
Upon completion of API, Student Naval Flight Officers (SNFOs) report to the NFO training squadron (VT-10) in Pensacola, Florida. During Primary training at VT-10 in the T-6A Texan II, SNFOs learn the basic skills of aviation, visual and instrument navigation, and communications. The training consists of academics, navigation and communication trainers, high fidelity simulators, and instrument, navigation, and formation flights. Student Naval Flight Officers will be selected for one of four pipelines: Strike Fighter, Airborne Early Warning (AEW), Maritime Patrol (MPR), and Take Charge and Move Out (TACAMO). All four training pipelines are conducted at Training Air Wing SIX at NAS Pensacola, Florida. Students selected for land-based aircraft (MPR and TACAMO) move on to Advanced training at VT-4, while carrier-based students (Strike Fighter and AEW) receive additional T-6A training. Students selected for Strike Fighter move on to Advanced training at VT-86, while AEW students proceed to VT-4. Upon completion of intermediate and advanced flight training, Naval Flight Officers proceed to specific Fleet Readiness Squadrons for specialized training in their aircraft.
Advanced Training at VT-4 and VT-86 provides tactical training to student NFOs that tests and prepares them for their future fleet aircraft. Upon completion of Advanced training, NFOs receive their wings of gold and move on to their respective Fleet Replacement Squadron (FRS).
MPR, TACAMO, and AEW students receive Advanced training at VT-4 utilizing the Multi Crew Simulator (MCS). The MCS is a reconfigurable trainer that allows students to learn how to employ the systems and tactics of their fleet aircraft in real world mission scenarios with multiple crew members and multiple aircraft. Training focuses on Crew Resource Management (CRM), communications, and sensor utilization while learning tactical procedures for various missions. Students learn how to utilize RADAR (including Synthetic Aperture and Inverse Synthetic Aperture), Data Links, Electro-Optic/Infra-Red cameras, Electronic Surveillance, acoustic, and navigation and communications systems.
MPR students utilize these systems to perform Anti-Surface and Anti-Submarine Warfare, Electronic Warfare, Intelligence Surveillance and Reconnaissance, and Search and Rescue missions. Upon graduation, NFOs continue to VP-30 in Jacksonville, FL for training in the P-3C, EP-3E, or P-8A.
TACAMO students learn complex communications protocols, prioritization and CRM skills that prepare them for training in the E-6B at VQ-7 in Oklahoma City, OK.
AEW students learn Command and Control and Air Intercept Control, and after graduation move on to VAW-120 in Norfolk, VA for training in the E-2C or E-2D.
Strike Fighter NFO training is conducted at VT-86 utilizing specially modified T-45C simulators and aircraft incorporating the Virtual Mission Training System (VMTS). VMTS allows for NFOs to train for air-to-air or air-to-ground missions using a synthetic RADAR that mirrors the capability of the F/A-18. Utilizing a data link network and an instructor ground station, students perform complex missions against multiple air and surface targets. NFOs train for Strike, Close Air Support, and All Weather Intercept missions. After graduation, Navy NFOs will train in the F/A-18F with either VFA-106 in Virginia Beach, VA or VFA-122 in Lemoore, CA, or the EA-18G with VAQ-129 in Whidbey Island, WA. Marine Corps NFOs will train in the F/A-18D with VMFAT-101 in Miramar, CA.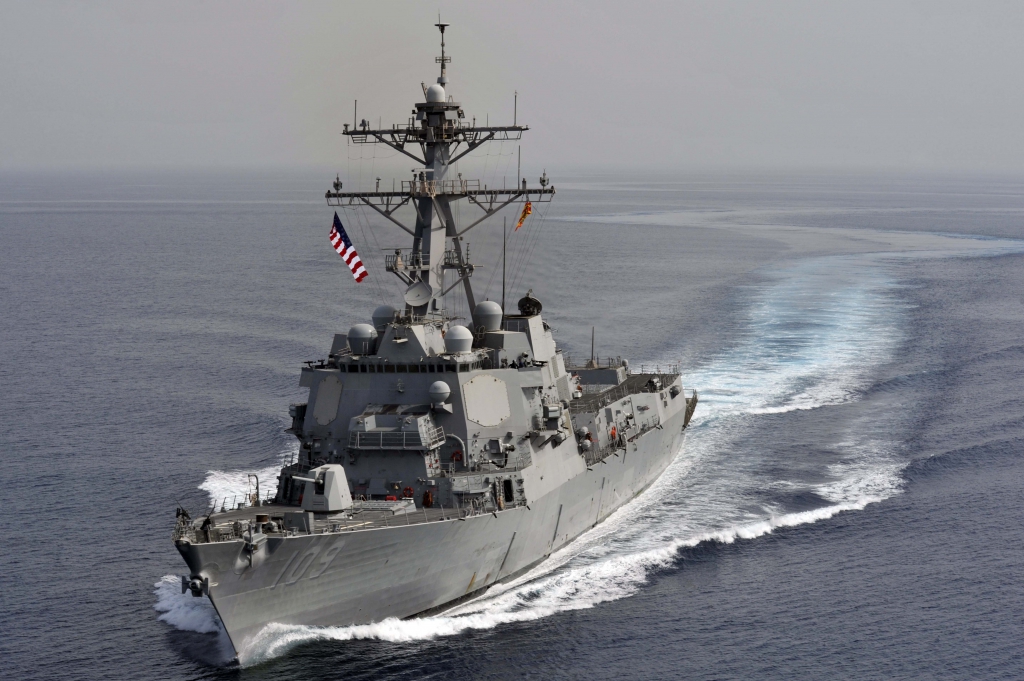 All midshipmen who choose Surface Warfare can look forward to a challenging career as a member of the Navy's oldest warfare community. Newly commissioned Ensigns will find themselves in the most modern fleet in the world, serving on a variety of ships such as the DDG-51 Arleigh Burke class destroyers or the CG-47 Ticonderoga class cruisers, on the cutting edge of warship technology.  Select midshipmen also have the option to become a Nuclear trained Surface Warfare Officer. These individuals will get a top notch level training in Nuclear Power and then put this training to work on the Navy's largest ships – the aircraft carriers.
Newly-commissioned Ensigns who selected Surface Warfare during their Senior year in college will select their ship along with all other NROTC midshipmen in the nation. Once your ship is assigned, you will proceed directly upon commissioning to that home port. Today's surface Navy literally covers the globe, and your first assignment could be anywhere from Spain to Virginia to Japan.
The Surface Warfare community is full of history and tradition as well as a strong commitment to the defense of the country and the support of its commitments around the world.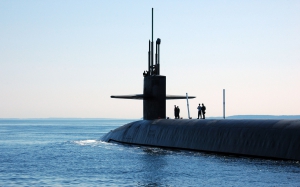 Nuclear-powered fast-attack and ballistic missile submarines form a vital part of America's national defense. Utilizing the advantage of stealth coupled with the awesome endurance of nuclear propulsion, submarines have played an invaluable role in the defense of our country in this century. Whether it is conducting Tomahawk missile strikes in the Persian Gulf, collecting intelligence, or inserting SEALs in Special Operations, the submarine force provides an agile and flexible deterrent against all those who would threaten the United States' security.
In order to be selected for this career field, the midshipman or officer candidate must interview with the head of Naval Reactors in Washington D.C. A strong math and physical science background is necessary to succeed in the challenging nuclear power environment. The interviews test the applicants' basic knowledge of technical subjects such as calculus and physics.
Once commissioned, submarine officers begin their training by attending Naval Nuclear Power School (NNPS) located in Charleston, South Carolina. Upon completion of NNPS, officers report to nuclear power prototype training in either Charleston, South Carolina or Ballston Spa, New York where they will get "hands-on" knowledge of what it takes to operate a nuclear power plant. While at the Prototype, officers will select the submarine they are going to, based on platform (fast-attack or ballistic missile) or home base. Submarines are currently homeported in Groton, CT; Norfolk, VA; Kings Bay, GA; San Diego, CA; Bangor, WA; Pearl Harbor, HI; and Guam. The last phase of training, before reporting to their boat, is the Submarine Officer Basic Course (SOBC) in Groton, Connecticut. At SOBC, officers will learn how to track and sink other subs and ships, learn about the weapons and SONAR systems in use, and develop submarine warfighting tactical knowledge.
Why Choose a Career in Submarines?
Submarines represent the best the Navy has to offer. Submariners are an elite group of highly trained individuals who take real pride in their mission. Submarine officers receive the best, industry-recognized training, and are truly judged on their merit. The submarine Wardroom is close-knit, and nothing compares to the camaraderie found aboard a boat.
As a Junior Officer, you will encounter substantial responsibility early in your career – sometimes more than you think you are ready for. You will lead a watch team in the operation of a nuclear propulsion plant within months of reporting onboard your first ship. Within 12 months, advance to the position of Officer of the Deck where you will be responsible for the tactical employment of a multi-billion dollar national asset. You will develop decision-making skills in a dynamic environment as well as lead and manage an exceptional team of the most highly skilled enlisted personnel in the military.
Naval Nuclear Power School and Prototype Training are the premier technical and engineering curricula offered by the military. This training is valuable both to the Submarine Force and the civilian market. For this reason, a $15,000 Accession Bonus is paid upon acceptance into the program.
You will also receive $230/month SUBPAY upon starting Nuclear Power Training and will be eligible for $25,000 per year Nuclear Officer Incentive Pay starting with your first shore tour.
Outstanding opportunities exist to earn a Master's Degree on your first shore tour. The Submarine Community has a higher percentage of Master's Degree completion than any other warfare community.
Each year, approximately 20 NROTC Midshipman are selected on a "first-come, first-served" basis to attend the Scuba Diving Officer program in Pensacola, FL prior to beginning nuclear propulsion training.
All NROTC majors are accepted into the Submarine Officer community – The core classes of calculus and physics are the only courses required to submit an application. NROTC midshipmen have historically shown a high success rate in screening and acceptance into the program. If selected, you have the ability to make it through Nuclear Power School and Prototype.
The PERS-42 (Submarine Detailers) website is an excellent source of information about the Submarine Force.
"The only easy day was yesterday"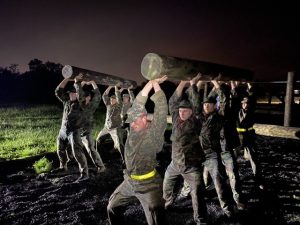 The newly commissioned officer from the NROTC program may elect to pursue a career in Naval Special Warfare, which is the smallest of the unrestricted line communities. The Special Warfare Officer concentrates on the development of skills in the areas of unconventional warfare, counter-insurgency, coastal and riverine interdiction, and tactical intelligence collection. To enter this career area, the officer must meet the various physical prerequisites, volunteer for hazardous duty, and request to be selected to receive Basic Underwater Demolition/SEAL (BUDS) Training.
BUDS Training is a 6-month course that is both physically and mentally demanding. Prospective SEAL officers and enlisted personnel are required to successfully complete the course before being admitted to the SEAL community. It is specifically designed to provide the necessary basic physical and technical skills needed by the Special Warfare operator, and its requirements are sufficiently demanding so only those who are highly motivated will complete the course. In BUDS Training officers receive instruction in the planning and conduct of all phases and forms of Naval Special Warfare, including the various forms of hydrographic reconnaissance, land and underwater demolitions, individual and crew-served weapons, small unit tactics, land reconnaissance, and various types of SCUBA.
Successful completion of BUDS Training signifies that an officer has attained the necessary skills to be assigned to a SEAL or SEAL Delivery Vehicle Team and this initial assignment marks the start of a SEAL officer's professional development. A first-tour SEAL officer can expect to be assigned as an assistant Platoon Commander, receiving advanced instruction that will expand upon the basic skills obtained during BUDS Training. Additional training in new areas such as parachuting and SEAL Delivery Vehicle Operations will also be included. A new SEAL officer will also receive pre-deployment training prior to a first deployment to a forward-deployed Naval Special Warfare Unit or with an Amphibious Ready Group.
To some people, comfort is a warm spot under the covers or a favorite couch. To a SEAL, comfort is more likely to be that warm fuzzy feeling that comes from a job well done; even if the job requires you to jump from a hot airplane into a cold ocean.
It takes courage, guts, and an incredible amount of determination to become a Marine. That's why very few people have earned our Corps' coveted emblem: the eagle, globe, and anchor. As our country's premier expeditionary "Total Force in Readiness," the Marine Corps exists today to fight and win our nation's battles. As an officer of Marines, you will lead the charge at home or abroad when our country calls. You will be tasked to make tough decisions-decisions that demand a sharp and agile mind and the discipline to think before you act. Your decisions will affect the outcome of your mission and will impact the people you will lead. Prove yourself worthy, and you will have attained one of the greatest honors of all: the title of United States Marine.
As a Marine Corps Option or Marine Enlisted Commissioning (MECEP) student at Texas A&M, the standards are high. Adhering to the motto "The more you sweat in peace, the less you bleed in war", you will participate in a demanding physical training regimen that includes long-distance runs, conditioning hikes, calisthenics, log drills, circuit course workouts, and a variety of other exercises. You will also attend professional development classes, participate in tactical decision games, and conduct field training exercises such as small unit maneuvers, land navigation drills, and mapping courses. You will also complete the required Naval Science courses. These courses include the following:
Introduction to Naval Science
Seapower and Maritime Affairs (U.S. Naval History)
Amphibious Warfare
Evolution of Warfare
Leadership and Ethics
Leadership and Management
Ultimately, the course of instruction at the NROTC unit is designed to prepare you for Officer Candidate School: a 6-week summer training course designed to challenge you physically, mentally, and emotionally. If you successfully complete OCS and receive a college degree, you will have earned the right to be a United States Marine Corps Officer.