SEAL Platoon
Mission: SEAL Platoon's mission is to prepare personnel seeking entrance into the U.S. Navy SEAL (BUD/s), Explosive Ordnance Disposal (EOD), and Navy Diving Officer Programs for their respective communities; and also to send those qualified members to their initial training pipelines. Members will have a high degree of mental and physical conditioning balanced with a superior level of safety awareness and personal morale.
Membership: SEAL Platoon consists of several members who have finished the initial training phase, (Blue Shirts) as well as members at the beginning of their initial training phase (White Shirts).
Training: The platoon utilizes a variety of physical training methods such as runs of varying intensity, swimming workouts, calisthenics, the obstacle course, and the stamina course. The platoon participates in pistol qualifying, SCUBA trips, rappelling, and land/water navigation exercises. Some weekends are reserved for lake swims, or Lake FTX's, at either Lake Bryan or Lake Somerville. These events are typically held once a semester.
Competition: SEAL Platoon hosts and attends major competitions around the nation that cater to their training evolutions. Each spring SEAL Platoon hosts the Commando Endurance Skills Competition (CESC) which tests the skills of top collegiate commando teams from across the U.S.
Marine Corps Recon Company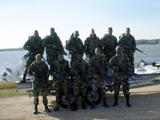 Mission: To train students, developing the abilities and skills needed to successfully complete the Marine Basic Reconnaissance Course and to uphold the high mental and physical standards of the United States Marine Corps.
Membership: Membership is open to any student at Texas A&M, but most members are pursuing a career in the Marine Corps. Each member must adhere to tough physical standards, abide by a strict disciplinary policy, and have an undying commitment to the unit. Each candidate will be screened and evaluated with a series of rigorous physical and mental tests before becoming a full member of the unit.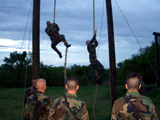 Training: Recon Company trains every weekday morning and one to three weekday afternoons. In addition, members of Recon Company sometimes volunteer on weekends to conduct field-training exercises or perform advanced evolutions which cannot be accomplished during the week. Physical training often entails running, calisthenics, upper body development, swimming (with and without gear and/or fins), water survival skills, and the obstacle and stamina courses. Professional development includes land navigation, patrolling (land and water), field skills, knot tying, weapons handling, and martial arts.